You've spent so much of the year focusing on updating the inside of your home that you've neglected the outside. Now, you've decided it's the exterior's turn.
Smart thinking. Research shows that adding color to your home's exterior is one of the best moves for adding value to your home.
The question is, if you have a brick home, how can you upgrade it, and which color should you make your exterior brick?
The good news is that masonry staining services can easily redefine the aesthetics and curb appeal of your home with the right stain colors for exterior brick. Here's a rundown on how to pick the right stain colors.
Let's jump in!
One of the best stain colors for an exterior brick home is any bold neutral hue. Examples of neutral colors worth considering are a thundercloud gray hue or a gentle gray color.
Thundercloud gray is more of a mid-tone version of the hue that stands out for being classic, simple, and cool. Meanwhile, gentle gray features an undertone of soft blue.
Neutrals like these gray colors exude an air of sophistication combined with strength. They especially look great against white features and trim.
For a more dramatic touch to your home's brick exterior, choose a muted black stain.
This version of black is an excellent option because it is bold but still slightly softened. This is helpful because a dark-colored brick has a tendency to fade prominently over time, more so than gray or white, for example.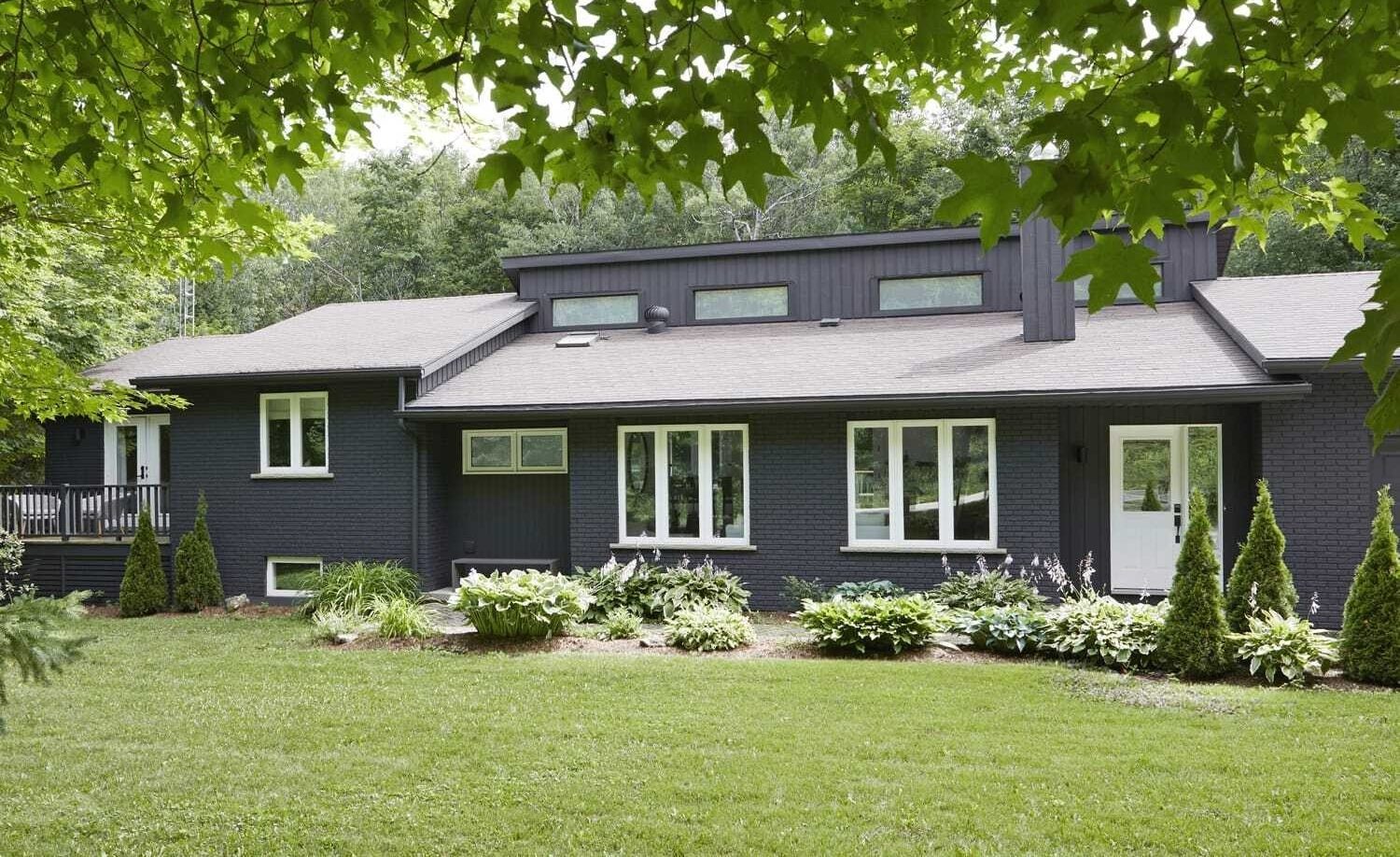 Perhaps you're leery of making your home's brick too dark. In this situation, a charcoal hue may be the best option for you this season.
Charcoal offers the benefit of being deep, luxurious, and rich, thus giving your home a cosmopolitan look. Charcoal especially looks amazing with a simple black or muted black trim. Alternatively, you can pair your charcoal brick exterior with a bright white trim for the perfect contrast.
Taupe, a dark gray color with a hint of brown, is another in-style stain color for exterior bricks this year.
The benefit of taupe is that it is warm yet slightly light. It's excellent for giving your home a consistently welcoming, comforting, and calm feeling without standing out too much.
Blue is yet another popular choice for exterior brick. That's because various shades of blue, like sky blue, can add calmness and serenity to your home.
For another way to enhance the look and feel of your home, go with a red stain hue when recoloring brick.
Red-colored brick evokes a sense of tradition and sophistication at any home. Note that red has historically been linked with older homes. However, vintage and colonial looks are currently all the rage, so your red exterior brick will be right on trend.
If you want your brick home to stand out more while still looking classy, you generally can't go wrong with terracotta. This color, which is brownish orange, will immediately revitalize an existing red brick color to make it look like a bright red.
All in all, terracotta is an easy way to give outdated and faded brick a more vibrant and current tone.
For an ultra-modern and fresh look, choose a simple white hue for your home's exterior brick.
White is a classic color that invokes a clean and crisp feeling. This color offers the benefit of being versatile, as it works just as well for a modern farmhouse as it does for a contemporary home.
Either way, white is fresh and timeless. You'll never have to worry about it becoming outdated.
Various shades of green also make excellent choices for exterior brick stain hues.
For instance, you can try a blackened green shade if you're looking for a dark exterior shade. This shade offers the viewer a sense of complexity, weight, and warmth.
Meanwhile, if you're looking for a lighter green, consider choosing an olive color. It's an ideal option if you're going for an earthy, nature-inspired look. It also offers a feeling of warmth and freshness, particularly in areas that receive heavy natural light.
Rather than choosing a single brick color for your home, you can have your chosen masonry staining service company paint your brick more than one color, thus creating a range of brick hues.
For instance, consider a range of gray, white, and black to add a touch of class to your home's exterior. Likewise, brown, beige, and gray can be combined for a well-put-together look for your home.
For a particularly classic and classy look, you can use the combination of white, dark brown, and light brown.
Meanwhile, if you want to give your home's exterior a unique look, you can combine yellow with cream. It's the perfect way to create a beautiful, inviting, and warm exterior, essentially making your house "smile."
How We Can Help You to Pick the Best Stain Colors for Exterior Brick
Upgrading your home's exterior is an easy and cost-effective way of adding charm and value to your home. Fortunately, by strategically choosing stain colors for exterior brick, ranging from black to blue and even a combination of colors, you can instantly elevate your home's look.
At Nawkaw, we are excited to offer top-of-the-line masonry and concrete staining services. We can help you to choose colors that complement your type of home, mortar color, and home interior. We will also use a stain that leaves a natural texture that won't peel off or fade away.
Subscribe to the Nawkaw Blog!