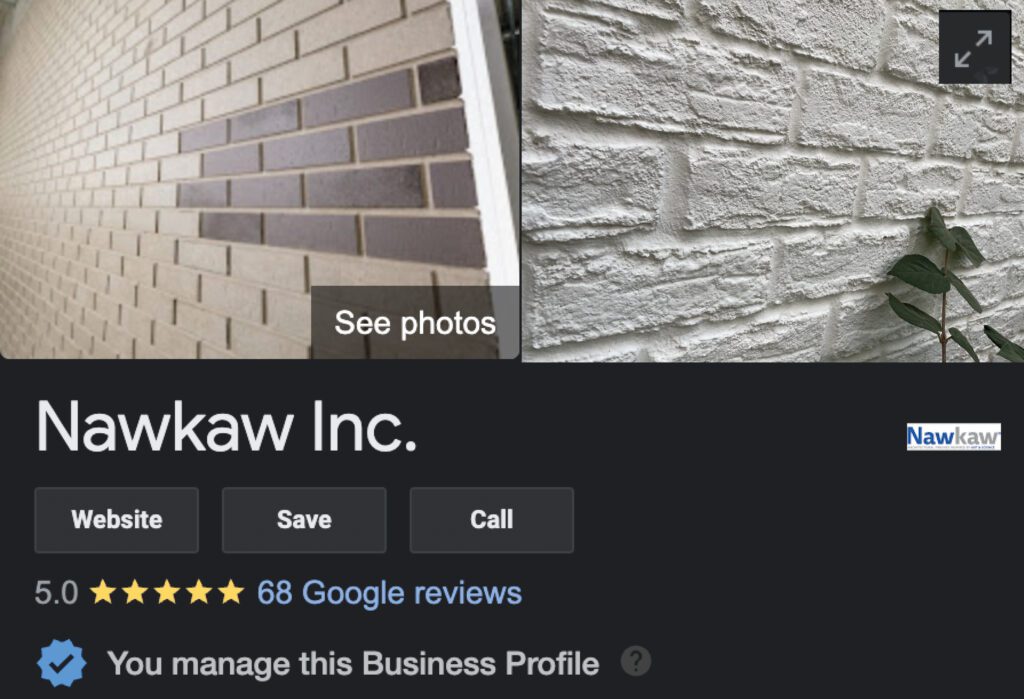 If you want honest reviews of our products and services, the testimonials below come straight from our customers! Check out what they had to say about their experiences with us. Would you like to leave your own, honest review about Nawkaw or read more about our customers' experiences? 
Testimonials From Our Clients
"Just got our exterior brick stain done. Nawkaw was an excellent company to deal with. From our initial visit from Dan, the sales rep, to the color selection process, to the workers on the day of. Professional, made me feel comfortable, accommodating, attention to detail... everything was on par. I'm so glad I did not go with another company. Darcy from the crew was an exceptional, talented guy. He matched the colors of our old stone to our new stone exactly, which I was a bit doubtful of. Highly recommend!"
"Great experience and very professional. Showed up at date and time we agreed to. Dominique was very helpful and patient creating different swatches until we landed on a colour we were happy with."
"Nawkaw recently completed the staining of our original masonry fireplace mantle. From our first phone conversation, email correspondence/schedule update, on site colour selection process, material installation and cleanliness, Nawkaw provided a personable and professional service. I have no hesitation in recommending Dan and his team to anyone looking to stain an existing masonry and/or concrete surface."
"Nawkaw completed our house exterior paint and we are very happy with the results. Andrea made all the arrangements and she was great with the communication from the beginning to end."
"Nawkaw came through with exceptionally great service and great quality and at an impeccable price! Would definitely recommend them to anyone. Dan was great from the second we requested a quote for the work to be completed, to after final completion of work."
"I have used Nawkaw Corporation on my commercial buildings on three occasions. The quality of the work is exceptional, making off color brickwork and joinery match existing materials. Tests are made for owner approval before work proceeds. What they can do is amazing. I recommend them without reservation."
"Really impressed with how they transformed the look of our building, didn't think it was possible. Would highly recommend them again."
"We have had two recent jobs that Nawkaw remedied in the time frame they suggested. Both of the projects were done in a timely manner and the affected customers were more than pleased with the results. Lead man, Jerry Capps, was more than helpful throughout the process. He initially informed us of the cost, time frame, and then the follow-up. We are in awe of the work that Nawkaw is capable of doing."
"Michael and Nawkaw have been great to work with. They and their crewmen executed a resent project on time and left the job site clean upon completion. This was a 3/4 of a million dollar home that had mortar color discrepancies throughout the brick veneer and they were able to make a near perfect match."
"As a commercial masonry contractor we try to avoid color issues whenever possible but they inevitably come with the territory. NawKaw has been a tremendous partner to help us out when we need something to blend in or a color changed entirely. Very easy to work with. Once they are on the job they know exactly what we're looking for and we usually don't hear anything more until the job is done."
"I work for a very high-end company. I recently had Nawkaw on my job in Naperville (H-mart). I dealt with their project manager, Jerry Capps. The job consisted of applying a material on the brick wall it was a good size job. Nawkaw had to deal with the public that was shopping at the supermarket were they working outside of. Not only did they do quality work, and they also cared for the safety of the public and their workers. The entire duration that Nawkaw was on site I never got one complaint from a customer or from anybody that was involved in the project. I would highly recommend them for other work. Jerry Capps took very good care of the job to make sure it was done on time with high-end quality."
"As an architect doing some upgrades to a very old and dated building with precast concrete walls, I specified Nawkaw. The results were excellent. The school's principal said she had many unsolicited positive comments from parents and neighbors. We were very happy with the results Nawkaw delivered."
"Amazing products and services. Truly a joy to work with on all fronts. Team up with these guys; they are the best in the business of manufacturing and applying concrete color solutions."
"This product is perfect for renovations. It offers professional and home owner alternatives to having to do extensive and expensive work. A permanent staining/coloring solution is now attainable without busting any budget."
"Dave and his team from Nawkaw were professional throughout the whole matching process and executed the staining perfectly. The match was spot on and I would recommend Nawkaw for any masonry stain matching. Great job guys!!!"
"Amazing work done on our building! Dom and his team took their time and made sure every detail was perfect! Highly recommend!"
"Nawkaw has stained precast panels for us, Architectural Precast Innovations, Inc., at our Middleburg, PA plant on several occasions. Each time they bring the same level of great quality and efficiency of work as the last. Their warranty is also a major selling point as it proves that Nawkaw intends to stand behind their work."
"After months of research, I found NAWKAW! The Nawkaw team was outstanding. Responsive Sales, manager and excellent, high quality technical execution. They transformed a California 1963 mid century modern water front property and brought this home back to life. The white brick on the outside was yellow and a mess. They power-washed and stained the brick with care and it looks like restored real brick and not "painted on" but truly stained. It is art and has a 25 year warranty! LOVE IT!!! THANK YOU NAWKAW!!!"
"We had a very positive experience with the Nawkaw team, lead by Andrew Markopoulos. We had a large project to stain the stone (Cultured Stone) on our home. We were able to review samples, initially that the Nawkaw technicians applies in several area's, under different light conditions. The project was completed and to our total satisfaction. The team was professional and courteous. I would highly recommend them!"
"I have been in the masonry field for over 16 years and no one has come close to the level of knowledge, service, and quality NAWKAW provides. Great company and even better great people!"