What are architectural concrete finishes?
Compared to different building materials, concrete is known for its durability, easy use, and longevity. These are all of the reasons why it's become so popular in the construction industry. Often, architects must create buildings with a life span of over 100 years. Concrete structures will easily achieve this when maintenance is done correctly. Yet, architects yearn for beautiful, stunning buildings. After all, those buildings represent each architect individually. Naturally, they want to be able to be proud of what they have created. For that particular reason, architectural concrete finishes come in handy. 
Let's face it! Cured concrete is not the most appealing looking building material. Due to different curing times, the cement mixture ratio, and atmospheric conditions, cured concrete will have discoloration throughout. These discolorations are quite unpleasant to the eye. This is not what architects are looking for at all. 
Architectural concrete finishes help enhance the look of bare, discolored concrete and satisfy an architect's creative vein! 
The examples above show the unique finishes that can alter concrete to make it look truly unique and beautiful. Stain can make concrete look like stone, brick, wood, and so much more!
Giving architectural concrete finishes a unique form
US Formliner, Nawkaw's sister company, will create any form liner imaginable for concrete. Are you inspired by the looks of greenery, wood, or stone textures, or want to create your own geometric, abstract design? No problem! Your concrete can look just as you imagined. Form liners can be completely customized to achieve any concrete finish and texture.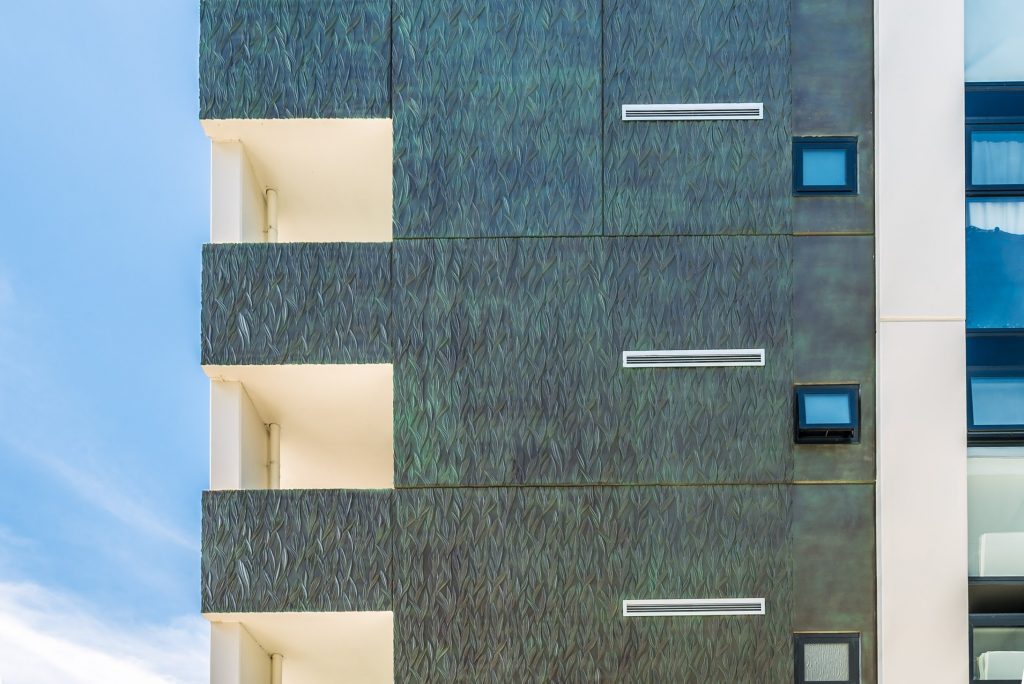 Once your concrete has the form you desired, Nawkaw will give it the color of your choice. If you are looking to mimic particular looks, we will stain the concrete accordingly and achieve the most natural finishes. Over the past thirty years, we have optimized our formula, making it the perfect environmentally-friendly, long-lasting, nonhazardous solution for concrete. Since we also apply the stain, we have created many unique techniques to master the looks of particular finishes! If you want to retain the concrete's natural look, we can equalize its color to eliminate discolorations and make the concrete more appealing. Thanks to many years of experience and well-trained employees, we will create outstanding results that meet your expectations.   
Above displays a before and after of a concrete form liner colored to perfection to give a look of natural stone!
As an architect, limitations to creativity is a thing you prefer not to deal with. The truth is, there are many limitations when it comes to the construction and design of your building. Yet, Nawkaw is here to help you fulfill those breathtaking visions of yours and bring them to life; color, texture, and the unique style of your building are things you don't have to compromise for. Using Nawkaw's innovative stains and coloring technology in unity with our sister company, US Formliner, we can create any look. 
 Are you interested in hearing more about our products and services for concrete finishes? Nawkaw is a registered provider with The American Institute of Architects Continuing Education Systems and offers courses to earn credits. Request a seminar here! 
To view more architectural finishes, take a look at our Pinterest!