Home Designer, Sarah Richardson, Teams up with Nawkaw!
If you haven't heard of Design Life's Sarah Richardson, you are missing out! This designer has worked, lived, and breathed design, worked in television design departments for over twenty years, and had her own design business for fifteen years. Besides that, she's known as an entrepreneur, writer, producer, and TV personality. 
With over 100,000 followers, she also has her own Youtube channel, where she takes on some fantastic renovations that you can check out here if you are obsessed with home design like the rest of us. 
In her most recent Youtube project, she teamed with Nawkaw to transform the exterior of a historic ranch home that she was renovating. Ontario office's Dan McBride and Steve Miller were on the job to make sure Sarah finished this renovation strongly. Nawkaw was lucky to team up with Sarah for this amazing residential project, in which we transformed the brick color of the exterior to match her vision for the home. Nawkaw has worked with Sarah before on other projects, so when she requested help on this ranch reno, Nawkaw was up to the challenge. 
Although this retro ranch reno went through a massive transformation, the budget was quite affordable through Nawkaw's staining process. The original brick color of this home exterior was an outdated and older rusty red that needed a change. Viewers voted on a dark stain from four different samples. Sarah ended up going with the perfect dark color for the reno. The before and after pictures below show the stark differences between the two and how color can genuinely change a space for the better. 
So what was it like on set for our Ontario's General Manager and Operations Manager? Dan, the GM, felt genuinely welcomed by Sarah on a low-stress set. Even if it was a little different for our team members, especially with extra filming time and multiple takes, Sarah made Nawkaw feel included in the fun process.
When we talked to Dan about his experience, he even said he would love to be a part of something like that again. While it's great to spread info about Nawkaw, there is also something special about being on camera.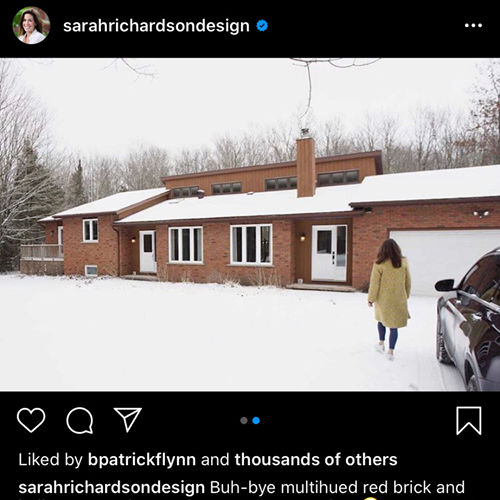 This before shot shows the multi-hued red brick before Nawkaw stained it. Since there were multiple colors in the original brick, Nawkaw Certified Stain Applicators suggested the NawTone-K Opaque that has complete hiding power.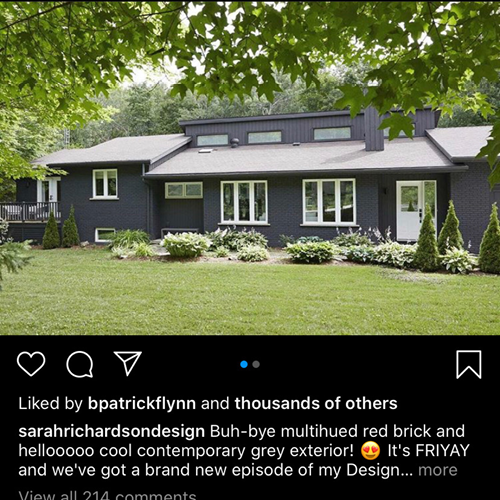 With Nawkaw's quick work, The bricks were stained with a sleek shadow color that makes the rest of the exterior pop with a contemporary twist for the retro ranch reno. 
The staining process for this house only took a few days, and it was completely worth it.  Sarah, with the help of our Certified Stain Technicians, decided on NawTone-K Opaque. This application is an acrylic and water-based stain, guaranteeing a sealed, long-lasting color. This particular stain binds with the substrate using a mineral binder to create a completely opaque surface up to the task of hiding anything on concrete or masonry surfaces. 
The color chosen was inspired by one of Sarah's favorite paint colors: Railings No. 31 by Farrow and Ball. The goal was to achieve a monotone and opaque color to bring the home together. Nawkaw customizes color, so we were able to match the paint for the perfect stain color on the retro ranch reno. 
Unlike paint, the stain used on this house penetrates the brick instead of just sitting on top as paint would. This guarantees a long-lasting, no-chip solution. The stain is UV and weather-resistant, lightfast, durable, environmentally-friendly, and more. If you would like to learn more about the particular stain used, please click here. 
When we talked to Dan about this, he also mentioned that putting the wrong material on exterior surfaces is one of the biggest mistakes he sees for renovations. He stressed the importance of leaving it to the experts! Stain application is very different from paint, so he always recommends going with stain applicators, like our certified Nawkaw employees!
This process is vital, especially in cold, rainy, or hot climates. This renovation project, based in Canada, is a place that has a lot of snow. Paint could easily chip or peel from cold temperatures from ice or melting snow. Since Nawkaw stained the exterior, there is no need to worry about the exterior's look or quality. 
Are you interested in seeing more of our residential brick and renovation projects? After all, we don't just do commercial projects. We love working on residential homes as well. Check out our portfolio to see the stories behind the stain! Don't hesitate to contact us and learn more as well. 
Thank you for working with Nawkaw, Sarah! We can't wait to keep up with Design Life and hopefully work with you again.