When you think of a concrete stain colors, what image comes to mind? 
A common misconception is that a concrete wall has to be dull, gray, and boring. Concrete stain colors, however, are a hot trend that provide vibrancy to concrete surfaces.
Concrete stain colors come in a variety of hues and styles that can even replicate the look of wood or highlight the natural beauty of masonry. Using concrete stain provides a durable long-term coloring that won't crack, peel, or fade. 
From vibrant greens to warm terra cotta to shimmering metallics and more, concrete staining offers a color option for almost any project. Here's everything to know all about concrete stain colors.
What's the Difference Between Stain and Paint?
Both stain and paint can add color to a concrete surface. For durability, stain is the clear winner, however, as paint will be impacted by exposure to the elements.
Paint subjected to the sun's UV rays will fade over time. Rain, snow, or wind exposure causes paint to crack and peel. This can leave an unsightly surface that lacks visual appeal.
As a result, paint must be reapplied every couple of years. This means additional cost and inconvenience to a property owner.
Stain doesn't just adhere to a surface like paint but penetrates into the concrete itself. The result is a look that will not fade from exposure to UV rays and will not peel away like paint.
Concrete stain can last 25 years or more. This results in long-term savings both in time and materials.
Unlike paint, which provides an opaque cover-up of existing surfaces, concrete staining provides more options. Different application levels and materials mean a surface can have a light wash of color to full opaque coverage and everything in between. 
With low or no VOC options and water-based formulas, concrete stain is also a more environmentally friendly option compared with latex paint.
Why Is Stain an Ideal Choice for Concrete?
Mineral stain is a superior choice for concrete because it bonds on a chemical level with concrete. Instead of coating the surface, as paint does, mineral concrete stain absorbs into the porous surface of the concrete. 
Different types of concrete stain can blend away variations in concrete color from the concrete manufacturing process and can improve the appearance of patch repairs. Concrete staining can correct visual imperfections that previously would have required replacing sections of concrete wholesale. 
The versatility and durability of concrete stain make it ideal for a consistent appearance that lasts for decades.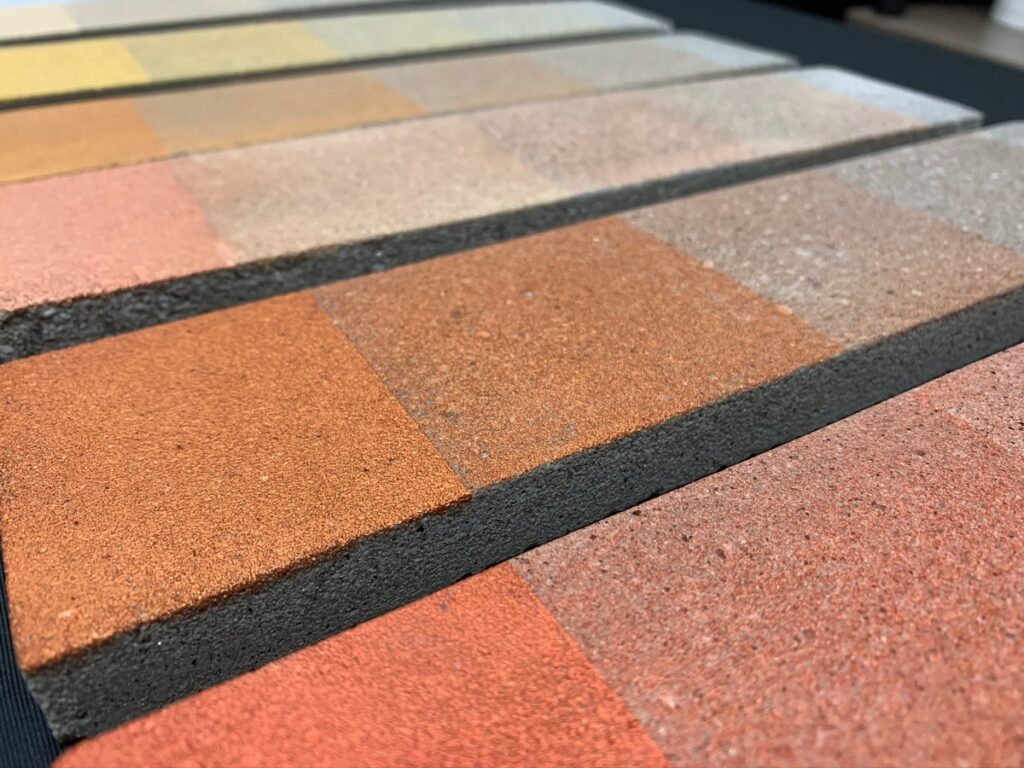 What Colors Are Available for Concrete Stain?
Concrete stain is available in colors to suit any need. For a sleek, modern look, neutrals like gray, black, white, and charcoal provide the protective benefits of stain with minimal coloring. Warmer neutrals like terra cotta, earth tones, and other shades of brown give a cozy, welcoming appeal to a concrete surface. 
For a captivating look, metallic concrete stains add a touch of shimmer that is eye-catching and sleek. Bold colors, like cooling blues and greens or impactful reds and yellows give modern vibrancy to any project.
Concrete stains can be applied as a color wash, or as a semi-transparent or opaque finish, depending on the product used. 
No matter the color palette, a concrete stain can provide the look desired in terms of color, shade, and opacity.
What Are the Hottest Trends in Concrete Stain Colors?
There are two main types of concrete stain: acid and mineral.
Acid stain is primarily used for horizontal surfaces to provide a marbled look to floors and patios. It can even be used for concrete countertops to replicate the look of marble more durably.
Mineral stains are most often used on outdoor, vertical surfaces. 
One popular trend is to use pre-stamped concrete and apply concrete stain to replicate the look of brickwork. This process provides the elegance of masonry in a less labor-intensive process. Although, for existing masonry, there are a variety of masonry stain colors to choose from as well. 
Using concrete staining to replicate brickwork means a consistent finish–no worrying about damaged bricks or distracting variations in color.
Another popular trend is to use concrete stain to replicate the look of a woodgrain finish. Imagine the inviting look of woodwork, but with the durability of concrete. 
Metallic finishes are also a popular choice, especially for commercial buildings. The shimmer of a metallic finish is eye-catching and gives a sleek, modern appearance to office buildings, multi-unit dwellings, and more.
In recent years, the use of bold colors has become an architectural trend. From commercial buildings to residences, adding a bright pop of color to a concrete wall adds a touch of whimsy and visual appeal. 
Concrete staining can provide any color of the rainbow. From a light wash adding subtle notes of color to a fully opaque covering that stands out, the use of concrete staining is as limitless as the imagination.
No matter what vibe is desired, from rustic to modern, concrete stain can provide the perfect look.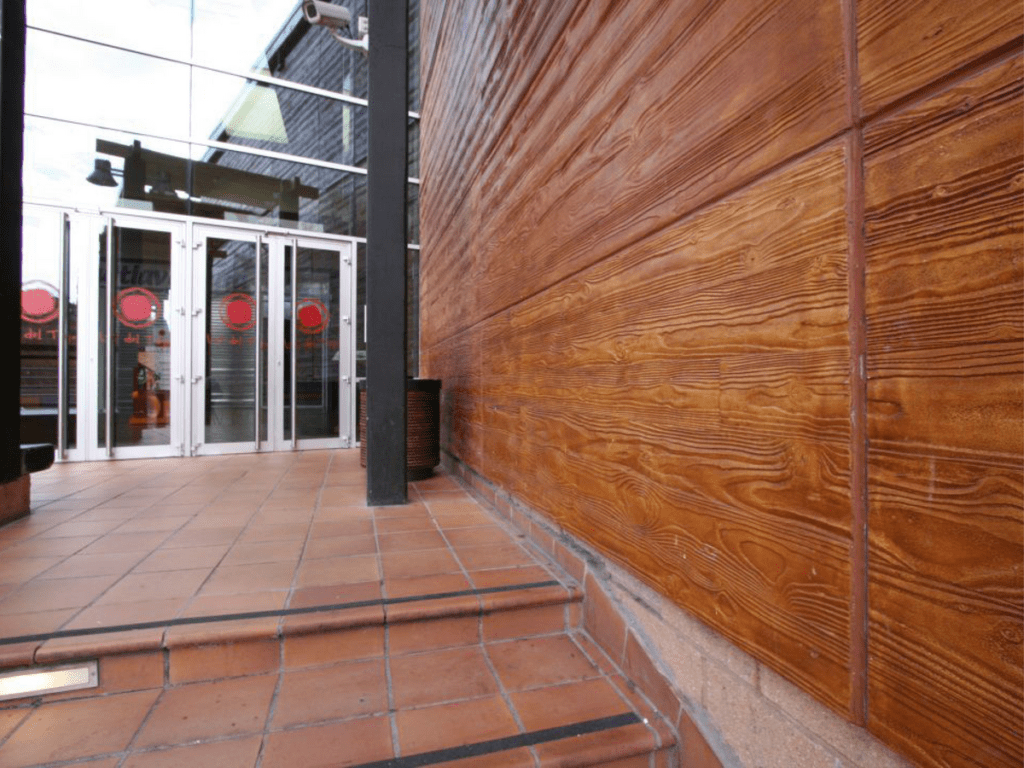 How Can a Professional Concrete Stain Company Make a Design Vision a Reality?
Concrete stain provides stunning results that last far longer than conventional paint. For the best results, many property owners use professional services to ensure a quality application.
A professional concrete stain company can advise about the best concrete stain colors and techniques to use for any project. They can also do a substrate test to evaluate concrete's water absorption, moisture content, and pH. This helps determine the right product is used for a particular concrete surface.
Contact us today for a consultation to see how concrete stain can enhance the appearance of a residential or commercial property.
Subscribe to the Nawkaw Blog!