Nawkaw's Innovative Products & Services Have Turned The Page On The Aesthetics Of Concrete.
Concrete is a building material known for its quality, durability, and sustainability but not necessarily for its beauty. Nawkaw's innovations in concrete staining technologies and finishing techniques have turned the page on the aesthetics of concrete. Your concrete building can boast authentic finishes regardless of the form pattern used in construction. At Nawkaw, we have pioneered concrete stain techniques that allow us to achieve natural wood or stone tones, the cool sheen of metal, or more innovative finishes from the existing spectrum of vivid colors.
New Construction, Authentic Finishes
Whether precast, tilt-up, or cast-in-place concrete, Nawkaw's color treatments breathe life into new construction projects. Public spaces, downtown high-rise buildings, museums, government buildings, parking decks, and highway sound barriers are just a few examples of concrete structures transformed by Nawkaw's concrete stain.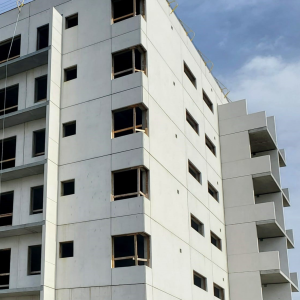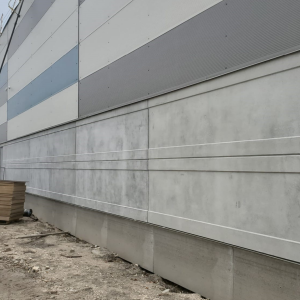 Correcting Integrally Colored Concrete
Consistency is key for producing high-quality, integrally colored concrete. But sometimes mistakes happen, or blemishes occur due to damage during shipment, installation, or by mistakes from other trades. Matching colors for patching or other necessary repairs can be a difficult endeavor, and if not done properly, can leave buildings with eye-catching imperfections. Corrective concrete staining beautifies the finished product, saves replacement costs, and has even eliminated pending arbitration between contractors, suppliers, building owners, and architects on major new commercial concrete construction projects in the UK, Dubai, Canada, and the US.
Creating Fair-Faced Concrete
Sometimes our services are only needed for a portion of a building or on individual panels. Nawkaw has the expertise to focus on specific problem areas and to blend out the variance where necessary. By harmonizing the color of a building, Nawkaw's concrete stain can help mitigate your potential losses due to rejected panels.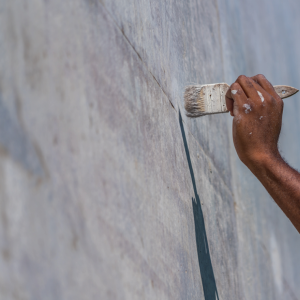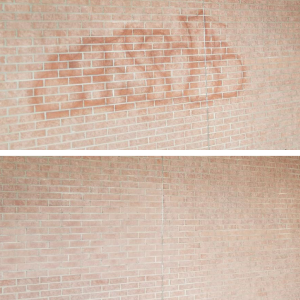 Did your building get tagged? Oftentimes graffiti leaves behind shadow or residue after Its removal. Nawkaw offers graffiti removal services that ensure you will forget the vandalism ever took place. Our list of satisfied clients for this service includes public schools, universities, and city government.
As Color Specialists, Nawkaw is dedicated to helping you make the right choice when it comes down to color. Nawkaw offers a variety of standard colors – but truly, there are no limitations with our shade and opacity selection! With our color-matching services, any shade can be produced to create something new or match to an existing building material. Do you want to know what your building would look like in a different color? No problem! Our Color Specialists offer color samples, applied to your building. They also have the capability to mix colors on-site until you're happy with the outcome!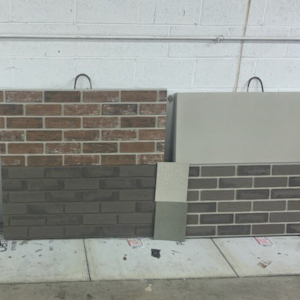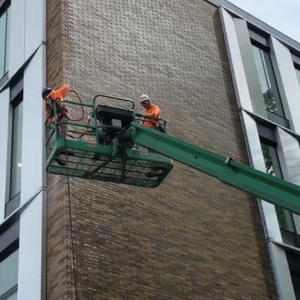 Cleaning & Surface Preparation
Surface preparation is just as important as the application of our concrete stain products, because any residual materials, or even dirt, can create barriers between the stain and the substrate to be treated. At Nawkaw, we use only the highest quality products. From site preparation, necessary equipment rentals, hot and cold concrete or masonry cleaning, on-site training, and safety, to cleanup and material disposal, we take care of it all.
Did we mention that most of our concrete stain products and services are backed by a 25-year limited warranty? Make sure you check with your local representative today to determine your project's eligibility. You can also find each warranty under individual products here. Your home or building is a major investment that deserves the highest quality materials and services available. At Nawkaw, we understand this, and that's why we are willing to stand behind our work and offer such a long-lasting guarantee.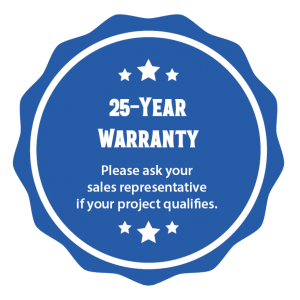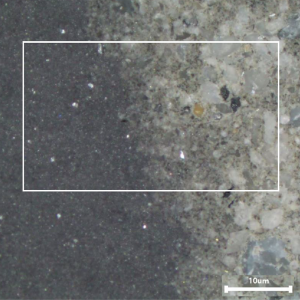 Many factors come into play when choosing the appropriate stain system for your building. Different approaches are required for each structure to ensure that both the finish's beautiful look and longevity are achieved. During on-site substrate evaluation, a water absorption test, moisture content, and pH measurement are usually the first tests to be completed. They will be followed by CSN Ion tests if needed. Our Operations Managers will determine if any further substrate testing is necessary, depending on the building materials, prior treatment, and current condition. If required, our experts will perform laboratory analyses and design the best solution for your building's needs free of charge. Nawkaw also provides reports on stain performance on the customer's specific substrate and certificates for your tender documentation.
Want to know more about our concrete stain solutions? Get in touch, and we'll be happy to help!