Since the first inception of architecture, in around 11,000 BCE, people have been taking pains to consider what their homes look and feel like. We want our spaces to feel comfortable, reflect our ideals, and enhance the world around us.
This doesn't have to apply only to homes, either. In fact, plenty of commercial and non-residential buildings can benefit from things like architectural concrete finishes.
But what are some of the best concrete finishes? And is it possible to have style without sacrificing affordability and durability?
Absolutely! Keep reading to find out how.
Form liners are making waves because of how easy it is to add individuality and originality to surface textures. These form liners give you the ability to play with texture, shapes, and patterns. 
Because form liners are a kind of mold, there's a lot of opportunity for creative exploration and aesthetic innovation. Gone are the days of boring, gray concrete slabs, though there's no need to lose sight of the affordability of concrete.
Now we can experiment with light and shadow, or create more subdued, muted effects. These particularly are beautiful since smooth surfaces only highlight the elegance and minimalism of simple designs. 
We can create interesting visual and textural effects by modeling or sculpting with form liners, and then introduce a plethora of color and finish options.
Here are some examples of form liner patterns:
Fractured fins
Brick or block patterns
Natural rock patterns
Graveled textures
Smooth flutes
Reveals
Geometric patterns
Custom patterns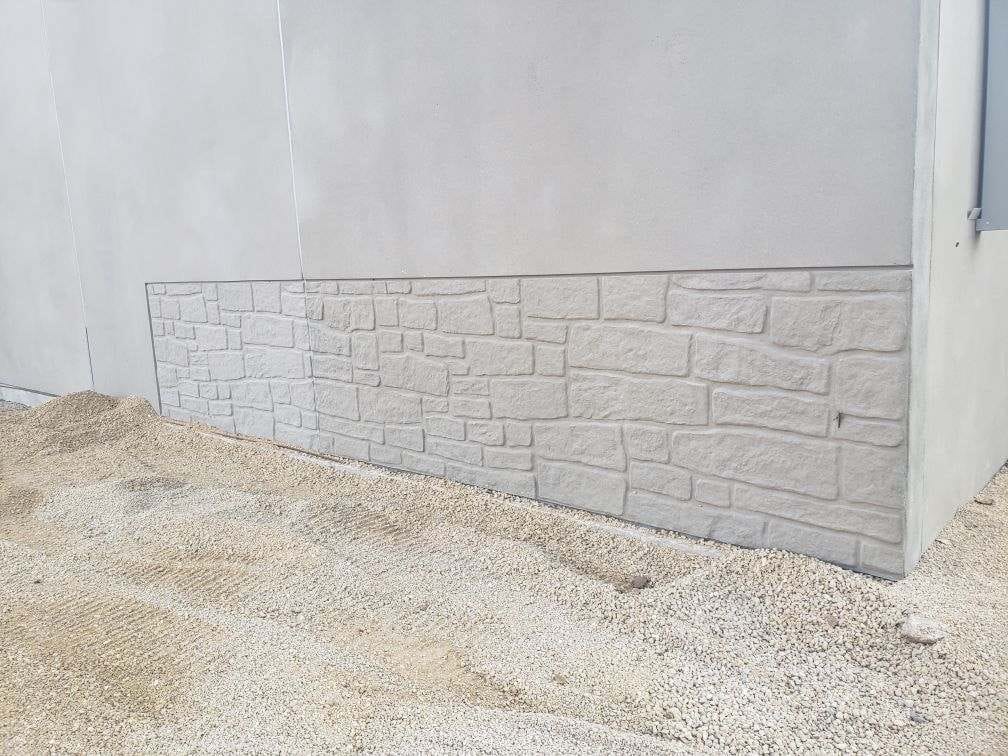 Stains and Color Treatments for Architectural Concrete Finishes
When people think of concrete, they likely imagine the dull, grey tones of cloudy skies and busy urban environments. It doesn't have to be like that at all. In fact, the future of concrete lies in its ability to take on vibrant colors and hues. 
And, if you thought the color options had to be neutral tones, think again. It's more than possible to get gorgeous lime greens, soft pinks, salmon colors, and even subdued but striking teals and mints. 
At the end of the day, any color is possible; it's just about ensuring that you're using the right finish. It's also important to bear in mind that stains and color treatments are two different things. 
A concrete stain sinks into the pores of the masonry. Though it's a water-based product, it comes in two forms. These are reactive and non-reactive. You can apply both to both old and new concrete, which is great for revamping existing architectural wall concrete finishes.
Reactive staining needs a water-based acid solution, which contains metallic salts that react with the lime in the concrete. Non-reactive stains don't need a chemical reaction to work; they simply penetrate the surface and sink into the concrete's open pores.
Popular stain colors include:
Cool green
Purple
Ruby red
Warm browns
Blue
Yellow
Aqua
Gold
Tan
Salmon
Off-white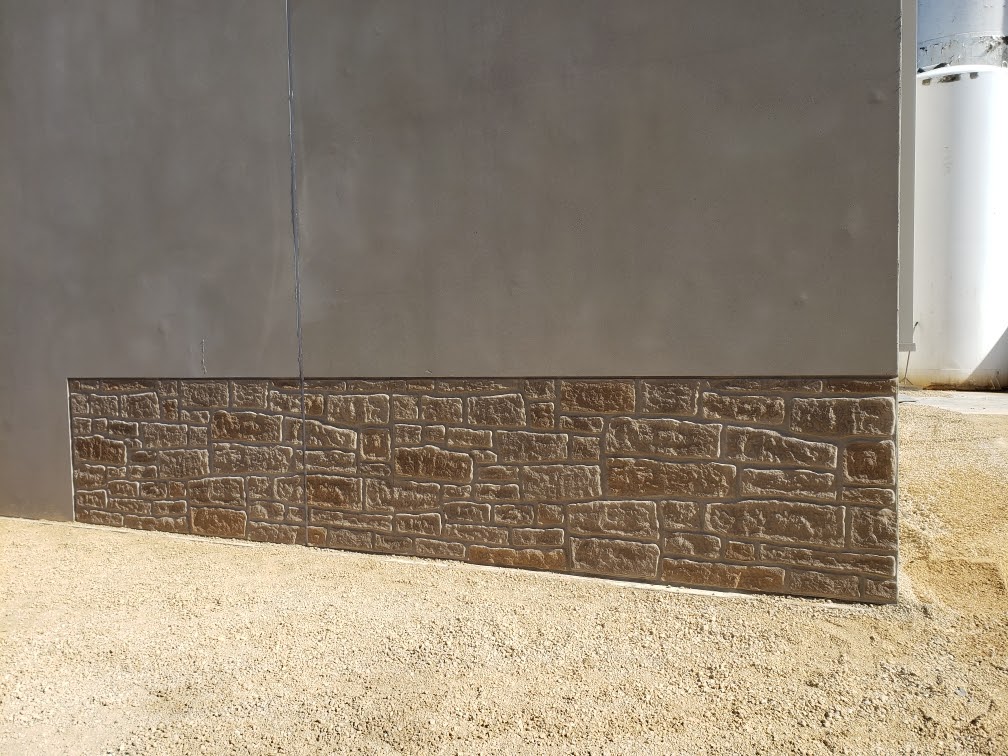 Overall, people prefer concrete because it's a durable and cost-effective building material that can withstand hard use for many years. However, it's not always the most visually appealing option. 
This is why we specialize in stains and treatments. Besides, untreated concrete is susceptible to moisture, dust, and stains, as well as deterioration and texture change over time. Here's where concrete treatments come into play.
Color treatments could come as a densifier, a coating, a dye, acid, or polish. You can also get decorative concrete overlays, sealants, and more. A popular form of coating is epoxy, which can create a painted effect that looks glossy, sleek, and modern.
This is also very durable, so it's ideal for high-traffic areas.
One of the more popular finishing options for concrete is metallics. Using a sustainable metallic stain, you can replicate steel, gold, copper, and silver on concrete and masonry, transforming it into something striking and memorable.
Another popular finishing option is a faux-wood effect, which can be achieved by including board-formed finishes with the right mix of color staining effects.
Board-formed concrete, or board-formed finishes, is a process of patterning concrete that leaves a wood-grain effect on the completed face. It's a technique that's becoming more popular these days because concrete is so well-suited as a finished material in modern design.
Plus, setting a wood grain into the surface visually softens and warms up concrete's usually cool appearance. Concrete is inherently more durable than wood, but aesthetically, wood has a sleek and modern look. This takes the best of both worlds.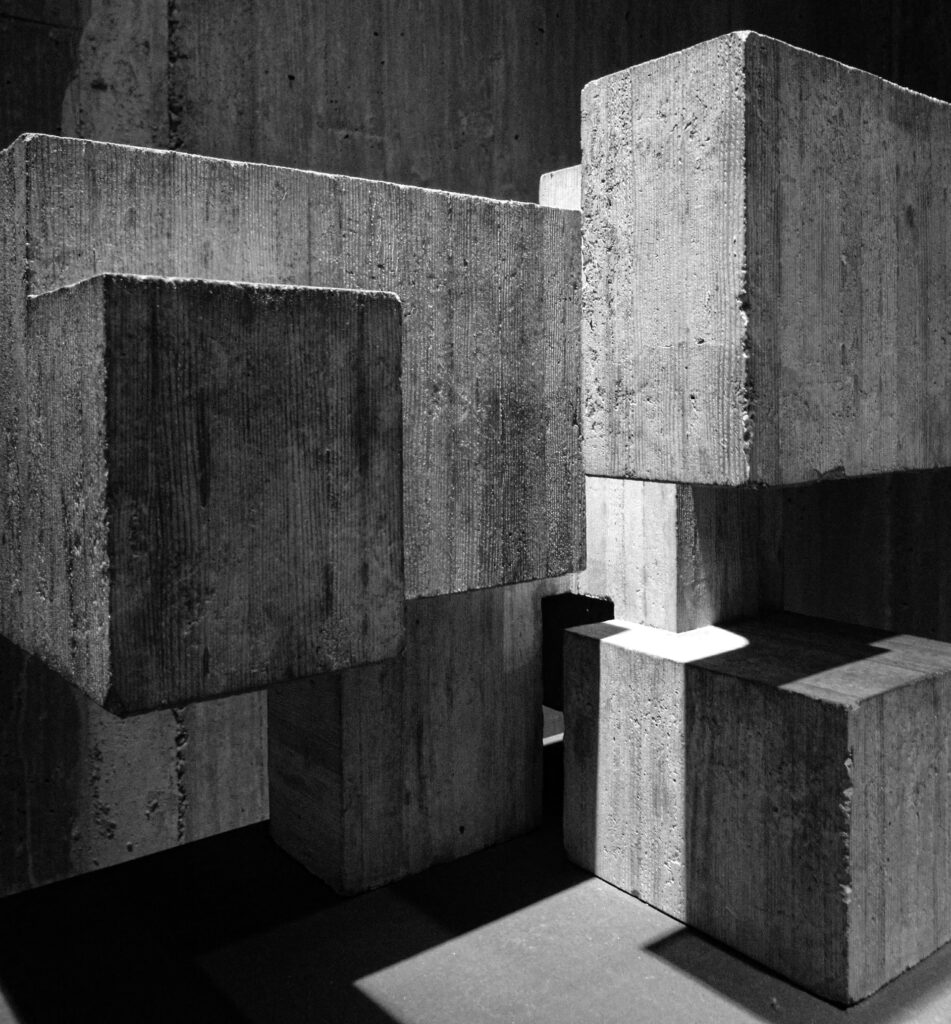 We can use form liners with almost any form of vertical concrete casting. We can attach form liners to both sides of the project for precast finishes, which means we can texture both sides of the concrete simultaneously. 
Precast doesn't just have to be for smooth finishes anymore, though this is still a sound option for modern architecture. With the right molds and color ranges, we can use precast for big builds, art installations, and innovative architectural designs.
In the world of architectural concrete finishes, innovation is key. It's all about how you combine color, how you explore the richness of texture, and what elements you bring together to make something truly incredible.
We're ready to help you make those choices, and our range of products is guaranteed to suit any of your needs, whether you're looking for new types of concrete finishes or want to freshen up your existing concrete.
Get in touch with us today and come see what we've got for you.
Subscribe to the Nawkaw Blog!