Did you know that the right brick tint or stain can last for up to 20 years?
It's time for a home makeover! If you're thinking about ways to add some new life to your space but don't want to lose the classic look of your brick. What do you do? You color your brick!
One of the top challenges people face when it comes to brick tinting or staining is that they don't know about the benefits. You may think that it's a complicated process or won't look good. But, when done correctly with professional help, brick color can add new life to your home while still preserving the integrity of your brick.
Keep reading to learn more about the power of brick staining, shading, and tinting.
Brick tinting is often used synonymously with brick staining, particularly in some parts of the world such as the United Kingdom.
Put simply, both often refer to the process of applying a brick stain to a brick to change its color. There are several reasons why someone might want to color their brick, including wanting to achieve a certain aesthetic or add some unique expression to their home and stand out from their surroundings.
Key Terms to Know:
While brick staining and brick tinting both refer to the same process in many situations, you need to know that the true definition of 'tint' and 'stain' are very different from one another. Here are a few key terms to keep up with as we move forward:
Tinting: This is the process of adding white to a color to lighten it.
Shading: This is the process of adding black to a color to darken it.
Tone: This refers to the overall lightness or darkness of a color.
Stain: A penetrative dye, chemical, or compound which colors a surface (referred to as a substrate in this instance).
The most important thing to remember when staining brick is that it is a very porous material, so it will absorb the stain quickly and deeply. This means that it is essential to choose the right type of stain for the job and follow the instructions closely to prevent any problems.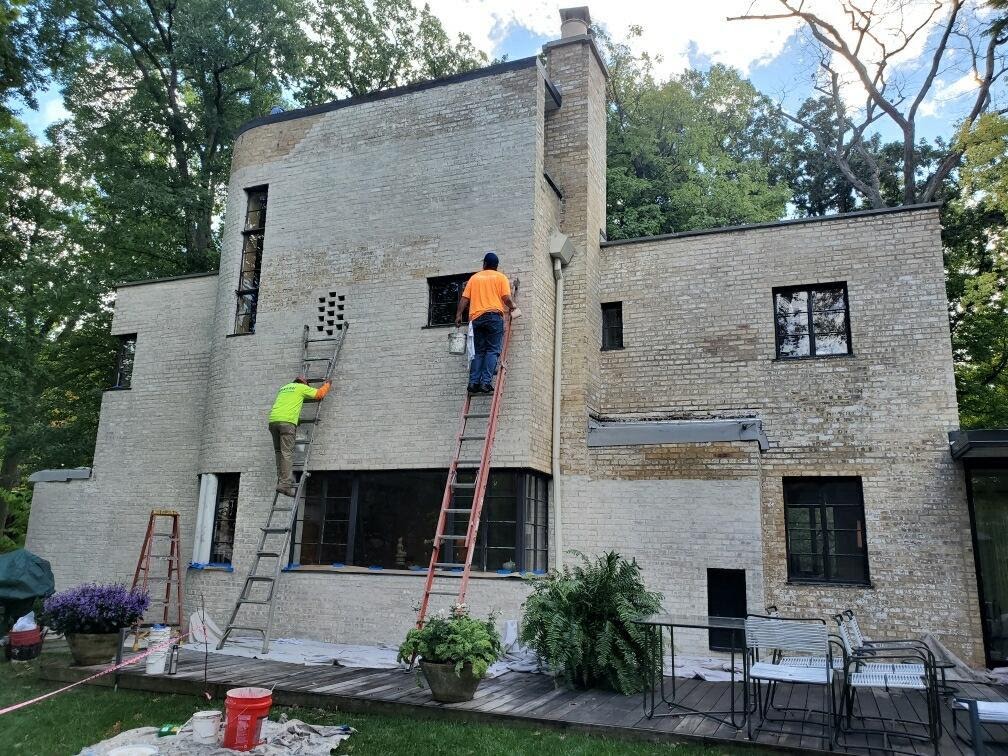 The Benefits of Brick Staining
There are many benefits to brick staining that you may not have considered. Here are just a few of the many numerous reasons why you should consider staining your brick:
Rejuvenate Your Home: If your brick is looking a little dull, staining can help rejuvenate it and give it a new life.
Create a Unique Look: If you want your home to stand out from the rest, staining your brick is a great way to create a unique look that will get people talking.
Add Value to Your Home: If you're thinking about selling your home, staining your brick can add value and make it more appealing to potential buyers.
Staining brick is a great way to add color and pattern to an otherwise bland exterior. Brick staining is also a more environmentally friendly option than painting, as it doesn't require the use of harsh chemicals or solvents. Plus, a brick stain is much easier to remove than paint if you decide you want to change the look of your house down the road.
The Different Types of Brick Staining
Whether you're looking to add a pop of color or achieve a more subtle effect, brick staining is a great way to upgrade your home's curb appeal. There are two main types of brick staining that you can choose from: 
Solid-Color Stains: These provide a solid, even coverage and can be used to achieve a wide range of colors.
Semi-Transparent Stains: These allow some of the brick's original color to show through, giving your home a more natural look.
A solid color stain is best for creating a completely new look. In contrast, a semi-transparent stain is more suited to matching a new brick with an existing brick. If you're not certain which type of stain is right for you, a professional brick staining company will be able to advise you on the best option for your needs.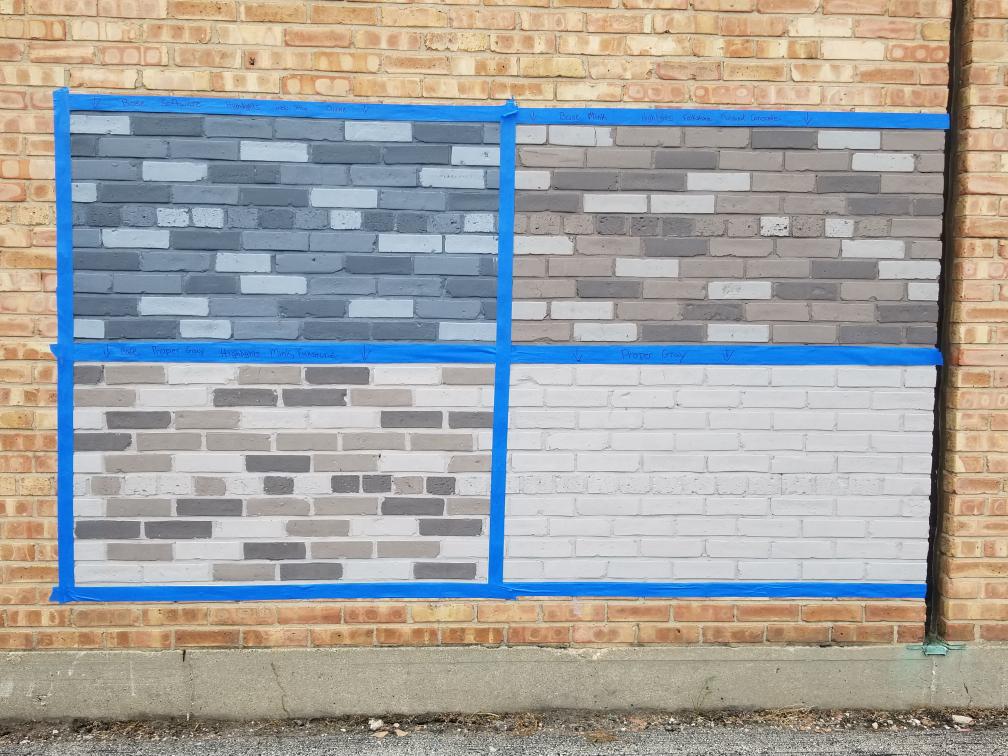 Brick tinting is a process of adding color to brick to give it a unique look. It's best for brick used for exterior applications, such as brick chimneys or brick walls.
The brick is first cleaned, and then a base coat of color is applied. After the base coat dries, a top coat of color is added. The brick is then allowed to dry completely before it's sealed.
Brick tinting can add interest to an otherwise plain brick surface. It can also match the brick to the rest of the home's exterior. The benefits of brick tinting include increased durability, resistance to fading, and improved curb appeal.
Brick shading is the process of adding black to a color to darken it. This is a great way to create a unique look for your home.
Brick shading can be done by adding a black wash to the brick. This is done by wetting the brick and then applying a black dye or paint. The stain or paint will soak into the brick and create a dark, dramatic look.
Brick shading can add depth and interest to an otherwise plain brick surface. It can also match the brick to the rest of the home's exterior. Brick shading adds value to your home by increasing its longevity, weathering the elements, and adding pop to your aesthetics.
How to Care for Stained Brick
Stained brick is a beautiful addition to any home, but it does require some special care and attention. Here are a few tips on how to care for your stained brick:
Clean Regularly
Stained brick should be cleaned at least once a year. This will help prevent dirt and grime from building up and making the brick look dull.
Use a Soft Brush
When cleaning stained brick, be sure to use a soft brush. This will prevent the bristles from scratching the surface of the brick.
Avoid Harsh Chemicals
Harsh chemicals can damage the finish of your stained brick. Opt for gentle, pH-neutral cleaners instead.
Stained brick is a beautiful way to upgrade your home's exterior. However, it's important to remember that stained brick requires some attention and light maintenance. Be sure to follow the manufacturer's guidelines exactly. With proper care, your stained brick will last for many decades!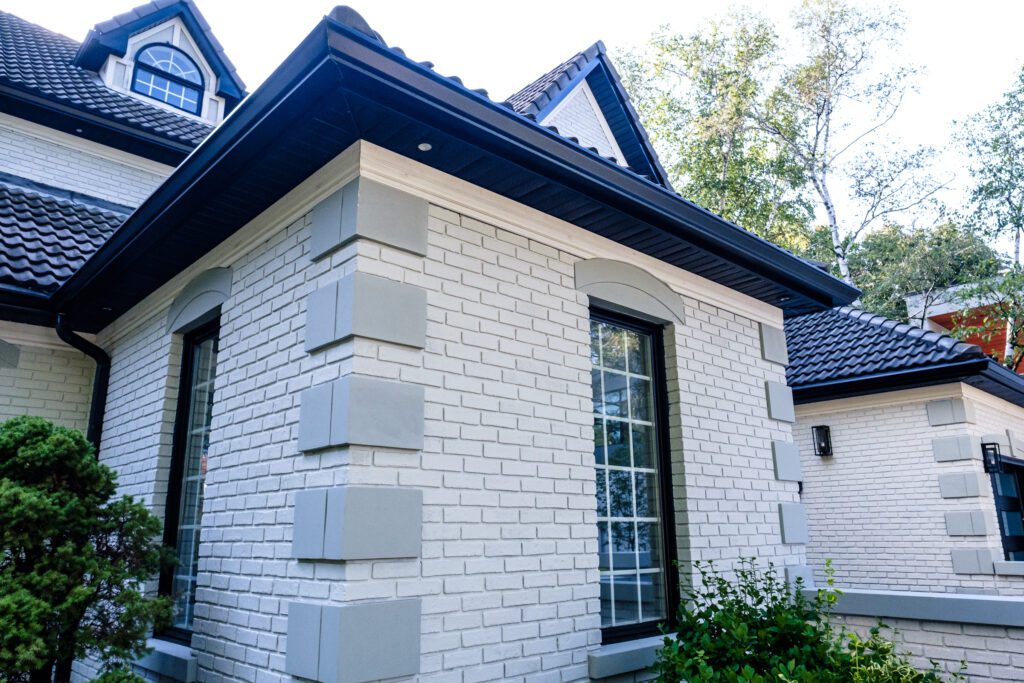 Want to Take Your Home's Curb Appeal to the Next Level?
If you have brick on your home and are looking for a way to transform it, look no further than brick staining. As you learned today, brick staining is the process of adding color to brick, giving it a whole new look.
You can take your home's curb appeal to the next level with brick staining. The process is simple and can be completed in just a few hours. Best of all, it's a cost-effective way to give your home that fresh look you've been dreaming of.
Contact us today to get started on your home transformation!
Subscribe to the Nawkaw Blog!