NawKote-PC is a coating system designed to give self-cleaning properties to exterior surfaces. It uses a unique formulation of high quality, photocatalytically active TiO2 nanoparticles to achieve a long-lasting protective barrier. Using only sunlight and water, it shields surfaces from the harmful effects of environmental pollutants, while removing these contaminants from the air.
Our coating system is invisible and can be applied to concrete, even when the surface has been painted or stained. Treated surfaces carry no electric charge and therefore reduce the absorption of dust. Sunlight activates NawKote-PC, causing air-born pollutants, viruses, bacteria, mold, VOCs, CFCs, allergens, and smog to decompose. NawKote-PC prevents the carbonation of concrete. Concrete that undergoes carbonation suffers from erosion and increased water ingress, which leads to corrosion of its steel reinforcement. NawKote-PC will extend the overall life of the structure without the use of harmful chemicals.
Accelerated Carbonation Neutralization coefficient: 0mm/t2 (JIS A1152)
Decomposition of NOX: 0.7392 mmol/m2 (JISR1701-1:2004; 8h)
Permanent Graffiti Barrier APAS1441: pass
VOC: 0 g/L (SCAQMDR 1168)
Water Permeability: 0.2 mL (JIS A6909)
UV & Weather Resistance: excellent
Application Temperature: 41°-110°F (5°-43°C)
Dry Time for Reapplication (if required): 20 minutes
Shelf-Life: 12 months in factory sealed container
Self-cleaning


Prevents carbonation


Nontoxic


Water-based


Solvent-free


Antibacterial


Anti-mold


Zero VOC


Water washup
Check our website about NawKote-PC to find more product information, case studies and our portfolio.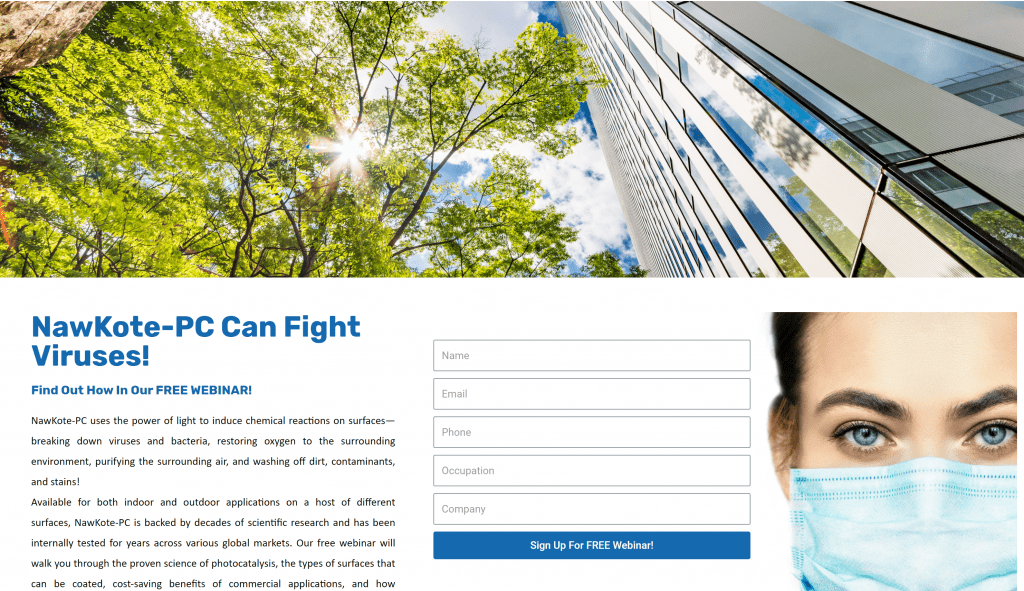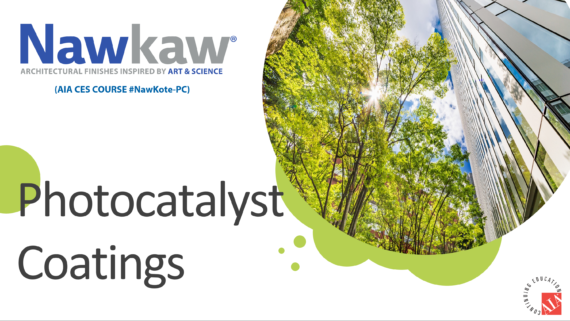 Why are photocatalyst coatings the solution to creating a greener space? Self-cleaning and air-purifying attributes are only two of the benefits. Learn all about it in our CES accredited course.